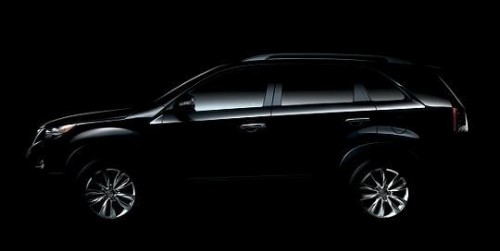 Bereits im Juli letzten Jahres gab es die ersten Gerüchte über einen neuen Kia Sorento. Jetzt hat Kia ein erstes offizielles Foto veröffentlicht, was das Nachfolger Modell zeigt. Dabei setzt Kia auf ein neues Plattformmodell und will somit das Fahrverhalten und die Laufruhe verbessern. Zusätzlich werden neue Motoren vorgestellt, sowohl neue 6 Zylinder, als auch ein neuer 2,2L 4 Zylinder Diesel Motor, speziell für den europäischen Markt, welcher 200 PS leisten soll. Der neue Kia wird offiziell im April, bei der Motor Show in Seoul, vorgestellt. Mehr Informationen gibt's wie immer nach dem Klick.

New engines
The all-new 2.2L R-engine unit brings in the latest diesel engine technology and consecutively, the the world class performance, class-leading fuel economy numbers and achieves the EURO-5 compliancy. It features a third generation common rail system with piezo-electric injectors to deliver fuel at 1800-bar and an electronic variable geometry turbocharger and is coupled with a diesel particulate filter.
The 2.2L R-engine packs impressive 200 horsepower and 435Nm of torue and has an estimated fuel economy of 14,1L/km or 33MPG (7l/100km)! That makes the new Sorento even more fuel-efficient than i's smaller sibling, the Sportage compact SUV!
Power will also come from a variety of other diesel and gasoline engines, including the 2.4L four-cylinder (Theta II) engine and the 3.8L six-cylinder (Lambda) engine that produces 270+ horsepower. Kia also plans to introduce the new Sorento with a 2.7L LPI (Liquefied Petroleum Injection) engine on Korean market.
Unibody platform
New generation Sorento will feature a six-speed automatic transmission, also developed together with Hyundai. The same fuel-saving six-speed tranny will be applied to majority of future Kia vehicles to come in the near future.
Another major technical change that comes together with the new tranny and engine will be the unibody architecture, which will replace the existing body-on-frame platform, meaning the ride and handling will be improved dramatically.
The 2010 Kia Sorento is set to go on sale in Korea shortly after it makes an official Korean unveiling, scheduled for the upcoming Seoul Motor Show in April, while it's US sales is expected to commence by the end of this year.
[Source: Kia World]
Leave a comment You must be logged in to post a comment.