Im letzten Jahr stellte Cadillac den Provoq, als Concept Car auf der 2008 Detroit Auto Show vor. Nun legt Cadillac nach und veröffentlicht auf der diesjährigen Show in Detroit, den neuen 2010 Cadillac SRX, der eben auf Basis des Provoq aufbaut. Motortechnisch wird es nur mehr zwei V6 Motoren zur Auswahl geben, einen 3,0L V6 mit Direkteinspritzung und 260 PS bei 200Nm Drehmoment, sowie einen turbogeladenen 2,8L V6 mit 300 PS bei 400Nm Drehmoment. Beide Motoren wird es nur mit einem 6-Gang Automatikgetriebe geben. Den Allradantrieb wird es standardmäßig, wie bereits bei vielen SUV's, nur gegen Aufpreis geben. Dies beinhaltet dann zusätzlich jedoch das sogenannte eLSD (advanced electronic limited-slip differential) ein elektronisches Sperrdifferential. Der SRX kommt mit 18 Zoll Felgen daher, als Option werden aber auch 20 Zoll Felgen angeboten. Er kann bis zu 1,6t ziehen, hat ein adaptives Kurvenlicht, Navigationssystem, ein Multimediasystem mit eingebauter Festplatte um seine eigenen MP3's zu speichern, Bluetooth und ein Entertainmentsystem für die Passagiere auf den hinteren Plätzen. Die Produktion des 2010 Cadillac SRX startet im Sommer 2009. Mehr Fotos gibts wie immer nach dem Klick.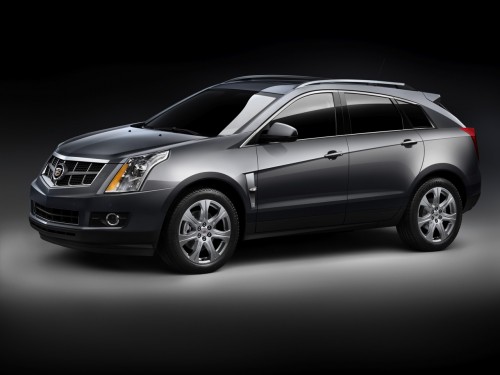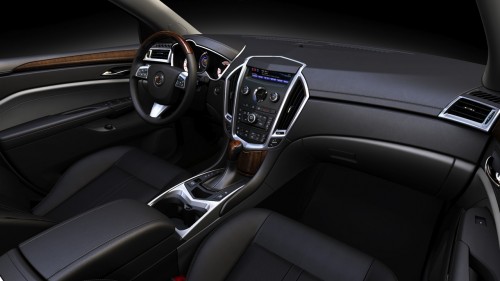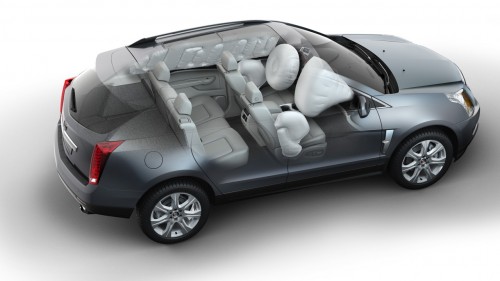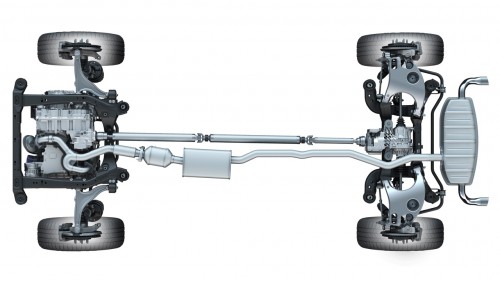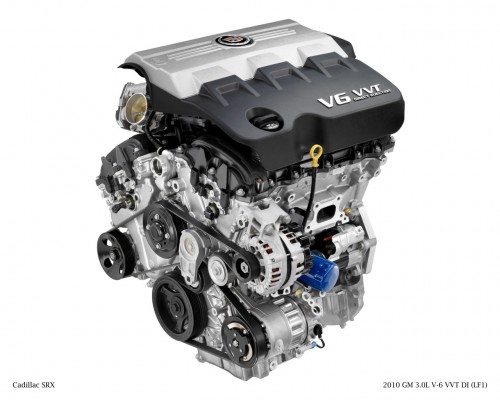 PRESS RELEASE
2010 CADILLAC SRX: A DISTINCTIVE ALTERNATIVE FOR TODAY'S LUXURY CROSSOVER CONSUMER
DETROIT – Cadillac unveiled the next-generation 2010 SRX Crossover today, featuring a completely new design and more-efficient, high-technology engine choices. The new SRX is a mid-size luxury crossover coming to the North American International Auto Show next week.
"The all-new SRX is a fresh and compelling crossover aimed squarely at the priorities of luxury buyers," said Mark McNabb, North America vice president, Cadillac/Premium Channel. "With new technologies for increased efficiency and safety, the redesigned 2010 SRX Crossover focuses on both the emotional and pragmatic sides of the luxury consumer."
The 2010 SRX is designed for efficient performance, including the choice of two high-tech six-cylinder engines that are new to Cadillac – the smallest-displacement engines it offers in North America. A new, 3.0L direct injected V-6 engine is standard and a new, 2.8L turbocharged V-6 is optional. Both engines employ technology that helps produce strong performance that is typical of larger-displacement engines. Direct injection enables a 25-percent reduction in hydrocarbon emissions. Fuel economy in the mid-20s on the highway is expected, but testing isn't complete.
Performance and safety are enhanced by an available all-wheel-drive (AWD) system that is designed to optimize vehicle handling and stability in all driving conditions. The AWD system includes an advanced electronic limited-slip differential (eLSD) that distributes torque as needed from side to side along the rear axle, as well as from the front to rear axle. The pre-emptive, active-on-demand system provides an extra measure of capability in wet or icy conditions.
The 2010 SRX rides on a wide track that was designed to deliver a nimble, responsive driving experience. It seats five, with generous occupant and cargo room, and can tow up to 3,500 pounds (1,587 kg).
Distinctive design and craftsmanship
"Cadillac is known for bold design. The 2010 SRX Crossover builds on that reputation," said Clay Dean, Cadillac global design director. "As with the 2008 CTS, we advanced our Art and Science design to create a crossover for style-conscious customers. The exterior features a dramatic diving gesture on the body side to impart the feeling of movement, even at rest."
A multi-piece shield grille and Cadillac's iconic vertical headlamps – with light pipe technology and available adaptive forward lighting – are the face of the SRX. They blend into a tightly wrapped, sweeping body that tapers downward at the rear, giving the vehicle a sporty profile, Dean said.
The SRX features a wide stance, minimal overhang and wheels pushed to corners. Eighteen-inch wheels are standard and 20-inch wheels are offered. A bold accent line dives across the body side and culminates at a chrome front fender vent that incorporates a side marker lamp. An integrated spoiler on the rearward edge of the roof extends the sleek lines and improves aerodynamics.
"Inside the new SRX, technical precision blends with old-world craftsmanship," Dean said. "Hand-cut-and-sewn coverings on the instrument panel and ambient lighting details convey a finely tailored cabin."
An integrated center stack houses controls for climate and audio systems, while the navigation system rises from the center of the instrument panel. A signature example of the SRX's attention to detail is the Cadillac script logos in the front door sill plates that illuminate when the doors are opened.
Advanced technology and entertainment systems
The 2010 SRX features numerous advanced electronic systems. Highlights include a "pop-up" navigation screen with three-dimensional imaging; adaptive forward lighting that swivels the headlamps in synch with vehicle steering; power liftgate with adjustable height setting; integrated hard disc drive for audio storage and a dual-screen system for rear entertainment.
Bluetooth compatibility is standard, as is OnStar's turn-by-turn navigation service for buyers who do not select the car's navigation system option.
Efficient performance
The SRX is powered by a new, fuel-efficient direct injected 3.0L V-6 that delivers an estimated 260 horsepower (193 kW) and is paired with a six-speed automatic transmission. Direct injection results in more power, better fuel economy and lower emissions, all will a smaller-displacement package. As a result, the new V-6 engine is expected to raise the SRX's standard power rating by 5 horsepower, while achieving an estimated 1 0-15-percent fuel economy improvement.
The 3.0L direct injection V-6 is a smaller-displacement version of the 3.6L, direct injection engine featured in the CTS sport sedan and named one of the world's 10 Best Engines for 2009 by Ward's Automotive. Along with direct injection technology, the 3.0L engine employs variable valve timing to optimize power and fuel efficiency and reduce emissions.
The Hydra-Matic 6T70 six-speed automatic transmission helps save fuel by lowering the engine's rpm at constant highway speeds, while manual shift control enables greater driver interaction when desired. The new SRX includes a driver-selectable "eco mode" that alters transmission shift points to maximize fuel economy.
"The 2010 SRX will deliver excellent, balanced driving dynamics in all types of weather," said Bob Reuter, global vehicle chief engineer. "The all-wheel-drive system with electronic limited slip effectively transfers torque not only from front to rear, but also along the rear axle. This system sets a new benchmark for all all-wheel-drive systems, giving the driver control and confidence on any road surface."
Traction control is taken a step further on AWD models with the rear eLSD. In icy or wet conditions, the system can transfer up to 100 percent of torque to the wheel that has more grip. The eLSD also gives the driver enhanced control when cornering hard or completing a high-speed maneuver, such as a lane change, by momentarily applying more or less torque to either of the wheels to help the rear of the vehicle more closely follow the direction of the front wheels.
The suspension includes a real-time damping system in conjunction with AWD that adjusts shock damping rates in response to road conditions for a smooth ride quality.
Enhanced safety
SRX's safety features are designed to protect occupants before, during and after a crash. A strong body structure and chassis that absorbs crash energy is complemented by the use of martensitic steel in the fully enclosed rocker sections. Martensitic steel is one of the strongest available and its use in the rockers helps protect against intrusion during a side-impact crash, while also maintaining the structure during front and rear crashes.
Additional safety features include standard head curtain side air bags, standard front seat-mounted pelvic/thorax side air bags, front safety belts with dual pretensioners and load limiters, rollover mitigation sensors, a pedal release system, trailer stability assist and OnStar.
The SRX was also designed to meet European pedestrian protection standards; and the front bumper is positioned for greater compatibility with car bumpers.
Production begins in the second quarter of 2009, with dealer availability shortly thereafter.
PRELIMINARY SPECIFICATIONS
Models:
2010 Cadillac SRX
Body style / driveline:
five-door, 5-passenger front engine transaxle; front-wheel-drive/all-wheel-drive mid-luxury crossover vehicle
Construction:
steel body frame integral; galvanized steel front fenders, hood, roof, door panels, one-piece bodyside outer panel, and liftgate
EPA vehicle class:
sport utility vehicle
Manufacturing location:
Ramos Arizpe, Mexico
Key competitors:
Lexus RX; Acura MDX; BWW X3 and X5
Engines
3.0L DOHC V-6 direct injection, variable valve timing, four valves per cylinder
2.8L DOHC Turbo V-6, four valves per cylinder
Displacement (cu in / cc):
182 cu in / 2986 cc
170 cu in / 2792 cc
Bore x stroke (in / mm):
3.50 x 3.16 in / 89 x 80.3
3.50 x 2.94 in / 89 x 74.8
Block material: aluminum
Cylinder head material: aluminum
Valvetrain: DOHC, 4 valves per cylinder
Ignition system:
coil-near-plug
pencil Coil
Fuel Delivery:
high-pressure direct injection
PFI returnless
Compression ratio:
11.7:1
9.5:1
Horsepower (hp / kw @ rpm):
260 / 193 @ 6950 (est)
300 / 224 @ 5500 (est)
Torque (lb-ft / Nm @ rpm):
221 / 300 @ 5600 (est)
295 / 400 @ 1850 (est)
Recommended fuel:
regular unleaded; E85 capable
premium unleaded
Max engine speed (fuel cut-off):
7100
6500
Emissions Controls:
dual close-coupled catalysts and single underfloor catalyst; variable valve timing, evaporative system
dual close-coupled catalysts
Fuel economy (city / hwy)
TBD
TBD
Transmissions
6T70 Hydra-Matic six-speed transverse, electronically controlled, automatic overdrive transmission
AF40 Aisin Warner six-speed transverse, electronically controlled, automatic overdrive transmission
Chassis and Suspension
Front suspension:
independent, strut-type, specifically tuned coil springs, direct-acting stabilizer bar (hollow); hydraulic ride bushings
Rear suspension:
linked H-arm, hollow stabilizer bar; real-time damping available
Traction control:
all-speed using engine torque reduction and brake intervention
Steering type:
specifically calibrated hydraulic-power-assisted rack-and-pinion for V-6 models
Steering wheel turns, lock-to-lock
2.84
Turning circle, curb-to-curb (ft / M):
40.3 / 12.2
Steering ratio:
16.5:1
Brakes
Four-wheel power-asssited disc with ABS (and ESC); vented front and rear rotors; aluminum calipers front and rear (two-piston front calipers, single-piston rear calipers)
Brake rotor diameter – front (in / mm):
13.6 / 345 x 1.2 / 30
Brake rotor diameter – rear (in / mm):
12.4 / 315 x 0.9 / 23
Total swept area (cu cc):
front: 179.4
rear: 72
Wheels and Tires
Wheel size and type:
18-inch aluminum (std on all models)
20-inch aluminum (opt on all models)
Tires:
P235/65R18 AL3
P235/55R20 AL3 or 235/55R20 HW4
Exterior Dimensions
Overall length (in / mm): 190.2 / 4833
Overall width (in / mm): 75.1 / 1910
Overall height (in / mm): 65.6 / 1668
Wheelbase (in / mm): 110.5 / 2807
Front track (in / mm): 64.0 / 1626
Rear track (in / mm): 63.7 / 1620
Interior Dimensions
Seating Capacity (front / rear): 2 / 3
Headroom (in / mm):
front: 39.7 / 1009
rear: 38.4 / 976
Legroom (in / mm):
front: 41.2 / 1047
rear: 36.3 / 923
Shoulder room (in / mm):
front: 58.3 / 1481
rear: 56.2 / 1430
Hip room (in / mm):
front: 55.4 / 1408
rear: 54.7 / 1391
EPA passenger volume (cu ft / L) : 100.6 / 2848.6
EPA interior volume (cu ft / L): 129.8 / 3675.5
Cargo volume behind first-row seats (cu ft / L): 61.18 / 1732.4
Cargo volume behind second-row seats (cu ft / L): 29.20 / 826.8
Capacities
Trailer towing maximum (lb / kg):
3.0L: 2500 / 1136 (without towing package)
3.0L: 3500 / 1590 (with towing package)
2.8L: 3500 / 1590 (with towing package)
Maximum tongue weight (lb / kg): 350 / 158
Fuel tank (gal / L): 21 / 79.5
Cooling system (qt / L):
3.0L: 12.4 /11.7
2.8L: 12.6 /11.9
[Source: eGMCarTech]
Leave a comment You must be logged in to post a comment.