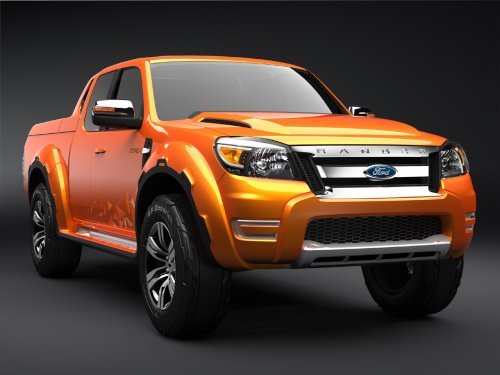 Auf der diesjährigen Thailand Motor Expo, welche gestern gestartet ist, zeigt Ford diesen neuen Show Truck, basierend auf dem standard Ford Ranger. Der Ford Ranger Max wir als kompakter Pickup angepriesen, welcher jedoch durch Designaspekte Muskeln zeigen soll. Dabei standen Werkzeuge Pate für das Design und so entstand dieses knallige Orange in Verbindung mit Mattschwarzen Akzenten. Wie gesagt, bisher nur ein concept car, ob er so auch wirklich bald, zumindest in Amerika, zu haben ist und was er kosten soll ist noch unklar. Mehr Fotos, inkl. Video, nach dem Klick.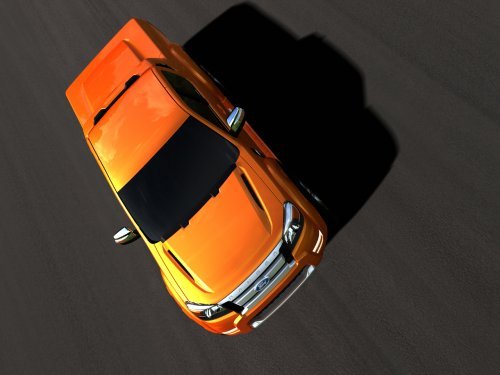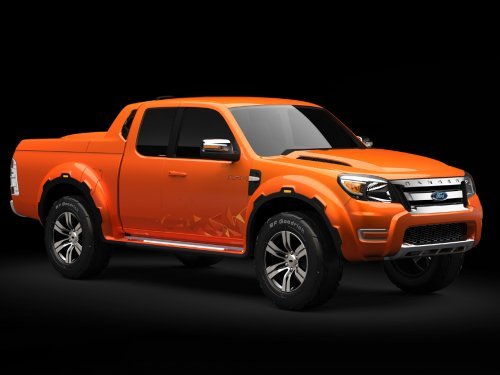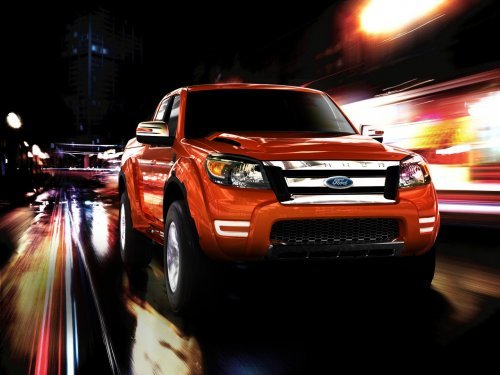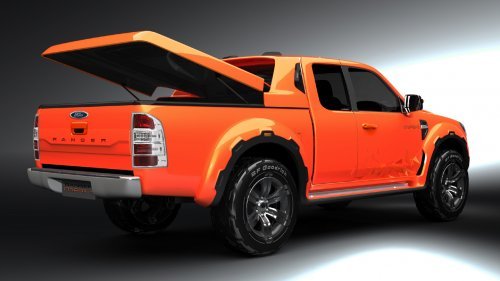 PRESS RELEASE:
Ranger Max Show Truck Delivers Maximum Capability, Maximum Style and Maximum Impact
High-impact Ranger Max show truck explores future design possibilities for Ford Ranger compact pickup
Inspired by power tools and active lifestyle equipment, Ford designers describe Ranger Max's new look as tough style with power dome and sportsbar as key features
Ranger Max amplifies the urban appeal of Ranger and reinforces its proven durability and toughness
BANGKOK, Thailand, November 28 – Renowned for its genuine toughness and strength, the Ford Ranger takes a confident step forward with the debut of the high-impact Ranger Max show truck at the Thailand International Motor Expo.
Ranger Max pushes everyone's expectations of Ranger. Visually bold and muscular, it takes to the stage at the Ford stand with confidence, sophistication and craftsmanship. The Ranger Max extends Ranger's reputation as the best all-around compact truck on the market.
"We know Ranger is tough and durable, and Ranger Max adds to those qualities. The show truck does not follow a trend; it sets a new tough style direction for compact trucks," says Paul Gibson, the chief designer of the Ranger Max show truck. "Ranger Max is genuinely tough, and it is a truck that gets the job done. This high-impact show truck also has the bold visual presence that looks great on the urban scene."
A team of Ford truck specialists in Thailand worked closely with Ford's Australia-based Asia Pacific and Africa design team, led by Gibson, to create Ranger Max. Ford's design team incorporated design cues into Ranger Max that may be seen in future-generation Ranger.
"The Ranger Max is not just about creating show excitement," Gibson said. "We have a great opportunity to test design themes that may make their way into production. Ranger Max says exciting things about the possibilities for truck fans in Ranger's future."
"The tough style of Ranger Max is based on the capability and versatility that make Ford Ranger the choice of the most demanding truck owners," said Mr. Saroj Kiatfuengfoo, senior vice president, Ford Thailand. "Ranger Max's high-impact design and tough style appeal will excite truck enthusiasts in Thailand."
Delivering Tough Style
Genuine truck toughness comes from great design and engineering, which means the production Ford Ranger is the ideal foundation for creating Ranger Max. No under-skin modification was needed with Ford Ranger to produce Ranger Max.
Gibson and his team of designers concentrated on exploring the limits of tough style. "Ranger Max wasn't meant to be elegant or pretty. The robust nature of Ranger means that it is the dependable workhorse, and with Ranger Max we wanted to create a show truck that is cool as hell."
They took inspiration from things many truck owners know and appreciate. The distinctive contrast between Ranger Max's hardcore orange paintwork with matte black accents is inspired by the functional design found in some modern power tools – just like those used by many Ranger owners every day. Ford designers recognize how absolute function and durability inspire these industrial tools and make them more appealing.
Industrial shapes such as the cog-like detailing in the body accents and wheel arch mouldings extend Ranger Max's theme of tough style as the ultimate power tool.
Pushing the power tool inspiration a step further, the Ranger Max design team noted how power tools and similar objects incorporated words into their design to convey instructions or warnings. Ranger Max uses 'words' in this same style to accentuate its robust 'industrial feel'.
Ranger Max is full of details like this, such as the word GRAB imprinted subtly on the bold, black grab handle in the side of the sportsbar linked to the cab. Every letter is precisely shaped in a 'truncated' font that complements the toughness and utility the overall truck design communicates.
Several power tool brands have inspired Ford designers. Other inspirations for Ranger Max have come from active sports, such as rock climbing, and the tough, technical products used by active sportsmen.
Just like Ford Ranger, the robustness of these products is affordable and their designs are purposeful. People buy these products because they know they can depend on them to get the job done.
"Ranger is respected," Gibson says, "and Ranger Max amplifies that identity, which gives it a modern and youthful character that's really suited to sporting and social activities, too."
Taking Ranger to the Max
With its character as the ultimate power tool, Ranger Max show truck exudes confidence and purpose. It's up for the job – work or fun – and its tough style says so. It features full surfaces that convey the power and strength of its tough-truck backbone. The detail of its design demonstrates this show truck has been designed by people who know trucks and love them.
Like a high-quality power tool, it's ready for tough use. This means purposeful matte black plastic accent features and trim items – and no fussy, fancy chrome.
Ranger Max has innovative features such as a remote-controlled power tonneau cover for the cargo bed and a distinctive sportsbar that visually extends the length of the well-proportioned Ford Ranger side-access Open Cab.
And Ranger Max rides on distinctive, deep-dish, 18-inch alloy concept wheels and custom technical-look tyres that finish its extreme looks.
This is a Ranger and proud of its tough-truck heritage. RANGER is boldly embossed in the hood and sidesteps on Ranger Max.
Dynamic Profile
Ranger Max's high impact establishes a powerful presence wherever it goes. And that bright orange high-energy colour is officially known as Mango Hit. It is the colourful creation of Debbie Pascoe, colour and trim manager, Ranger Max design team.
Its profile exudes power and dominance as well as balanced proportion. The flexed 'power dome' shape of its hood communicates the pulling power and high torque of the engine. The power dome shape carries through to influence the design of the hard tonneau cover at the rear of the vehicle. These two overt muscular design elements give Ranger Max power and solidity. It's enough to scare the typical pickup into the gym for serious weight training.
Adding even more dynamism to the profile is the exclusive Ranger Max sportsbar, which attaches to the pickup bed and arches across the vehicle. This unique crossbar is shaped to create the visual impression that Ranger Max is always on the move – or ready for action.
"The sportsbar makes a big statement," explains Max Tran, a Ford designer who played a key role in developing the vehicle. "It adds a feeling of movement and dynamic character, and incorporates some great design details, including twin air scoop shapes on top."
Built into each side of the crossbar is an integral grab handle. Finished in matte black plastic, the grab handle design is all about purpose. The dark shape of the grab handle visually extends the perceived shape of the Ranger Max side window shape, accentuating the feel of functionality and space of the Ranger side-access Open Cab – a functional feature which Ranger debuted in 2002 in response to feedback from tradesmen.
The grab handle is labelled – like instructions on power tools and on aircraft – with the word GRAB. Similarly, the side door of the Ranger Max is distinctively yet discretely labelled AXCESS. These functional callouts also extend to the Ranger Max fuel inlet, which is designed to intersect one of the bold wheel arches, labelled FUEL.
"There's no mistaking the purpose of labels like these on power tools," Tran explained. "On Ranger Max, they fulfil the same role. It's the style of purpose."
For example, the vent on each front fender uses hexagon-shaped details and discrete chrome badging with the word RANGER. MAX adjoins this Ranger badge to reinforce the show truck's name.
Other design details in the Ranger Max profile include incorporating the side repeater lamp into the side mirror. The lower bodyside, with two-piece interlocked sidestep look, was inspired by rock-climbing carabineers and other outdoor gear you trust with your life.
Ranger Max's stance communicates power, purpose and athleticism. The design team has crafted unique, 18-inch alloy concept wheels for Ranger Max. These deep-dish, six-spoke wheels – with black graphic funnel shapes to their centres – are must-have sporting accessories perfectly suited to Ranger Max. Featuring large offsets, the wheels build on Ranger Max's distinctive tough style.
Big P285/60R18 tires with a chunky tread pattern give Ranger Max the footwear and traction it needs to accomplish any job or adventure.
The bold wheel arches with cog-shaped detailing reinforce Range Max's stance and its purpose. Explosive, dynamic side graphics on the fenders and lower doors are inspired by the high-impact of shattering glass.
A New Face of Possibilities
Ranger Max is about confidence without aggression. It has a go-anywhere, do-anything attitude as well as great design detail. "When you look at the front design, the three-bar grille, the overt nostrils and open mouth, you're looking straight into the face of Ranger's evolution," said Gibson.
"There are design elements we are developing and Ranger Max is one possibility. We've crafted the face of the Ranger Max to explore a new look. Elements from it could evolve into the new identity of Ford Ranger."
The three-bar grille is a Ford hallmark design element, conveying strength and quality, integrated with a proud, large badge of the famous Ford blue oval. Ranger Max adopts dynamic, modern headlamps which angle at the top to communicate energy and movement.
More robustness cues abound in the front design. Here, the power-dome hood is a dominating shape. Its leading edge features an integral hot-air vent and reinforces that Ranger Max is a tough, powerful machine.
Self-confident Ranger branding – embossed in the top of the front grille surround – is another proud aspect of the front design.
Two major design elements link together to form the dominant frontal look of Ranger Max. The corporate three-bar grille imbeds itself into the lower enlarge air intake. A distinct line starting from the headlamps follows around the nostril and borders the lower air intake. This signature line unites the major design elements to create the defined face of Ranger Max.
Powerful Pulling Away
Ranger Max has presence on the road. Its bold rear design is the combination of proportion and details such as the pronounced contours of the tonneau cover which emulate the power bulge on the bonnet. The distinctive sportsbar integrates the cabin area with the tonneau cover. Continuing rearward, Ranger Max is neatly finished off with a tailgate cladding embossed with RANGER and a pair of unique tail lamps.
"We're really excited about the Ranger Max because we've been able to define a tough style and apply it to Ranger. It is credible and very believable. Ranger Max amplifies the reputation of our truck," said Tran. "There's nothing minimal about the Ranger Max."
Star at Thailand International Motor Expo
The Thailand International Motor Expo 2008, with Ranger Max as the star attraction for Ford, runs from November 28 to December 10.
"We recognise that Thailand is the home of Ranger for Asia Pacific, and from Thailand we export Ranger around the world. We know Asia is a fusion of many cultures, and we look to Thailand as a wonderful blend of tastes, styles and emerging ideas. For this very reason, we decided to create Ranger Max in Thailand and show the high-impact truck to the world at Motor Expo," said
Mr. Kiatfuengfoo.
[Source: Ford]
Leave a comment You must be logged in to post a comment.