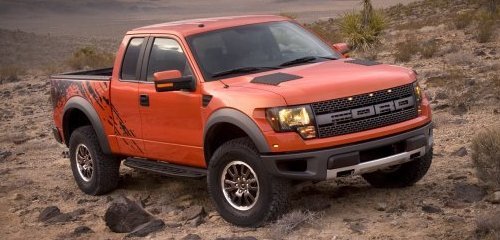 Der Ford F-150 SVT Raptor ist die neueste Kreation aus dem Hause Ford, welche 1993 mit dem SVT Lightning gleich zu stellen ist. Ford will damit eine neue Basis von Trucks schaffen, welche verstärkte Offroad Kapazitäten haben und sowohl für Sanddünen oder auch für felsigen Untergrund, wie geschaffen sind. Der Hauptunterschied vom Raptor zum normalen F-150, ist der neue Frontgrill und eine verbreitete Karosserie, dazu gibt es coole Aufkleber an der Seite und ein paar Lufteinlässe auf der Motorhaube. Unter der Haube arbeitet ein 5,4L Triton V8, welcher 320 PS und 528 NM Drehmoment produziert. Später soll ein 6.2L V8 mit 400 PS ebenso verfügbar sein. Der Raptor kommt mit einer komplett überarbeiteten Aufhängung, Stossdämpfern von Fox Racing, neuen Gestängen und BFGoodrich All-Terrain TA/KO 315/70-17 Reifen, welche ideal fürs Gelände aber auch für die Straße sind – und und und. Mehr Fotos vom F-150 SVT Raptor findet ihr nach dem Klick.


PRESS RELEASE:
Ford, the definitive leader in tough trucks, is further building on its solid foundation of the new F-150 to deliver the all-new 2010 F-150 SVT Raptor, a purpose-built, high-performance off-road truck versatile enough to take on the most challenging desert adventures as well as the everyday commute.
"Ford trucks have been a mainstay on the off-road racing scene for more that 20 years because of our long history of capability and durability," said Derrick Kuzak, Ford's group vice president for Global Product Development. "With the F-150 SVT Raptor, we are delivering a true off-road performance truck with the proven 'Built Ford Tough' capability and durability that is at the core of every F-150 and the best in performance thanks to the team at SVT."
"Like its fighter jet and dinosaur namesakes, the F-150 SVT Raptor is tough, fast, aggressive, and built with the off-road enthusiast in mind," he added.
Ford and off-road racing
Desert off-road racing is something Ford knows and does well, with eight championships in nine divisions in the 2007 "Best In The Desert" series and four more titles in CORR (Championship Off Road Racing). Ford has also shown its dominance at the Baja 1000 race – 12 Ford-powered vehicles have won the overall title for four-wheel vehicles, the most of any engine manufacturer.
With interest in off-road performance growing at a steady rate, the F-150 SVT Raptor was built to fulfill the desires of that highly demanding market. The high-performance off-road truck market is one that's largely untapped, allowing the Ford F-150 SVT Raptor to set the bar for this type of vehicle.
"Most of the major manufacturers have focused on-road performance, so when we looked at what was available in off-road truck performance, it was somewhat limited," said Mark Grueber, Ford product marketing manager for pickups and large SUVs. "This was the perfect opportunity for Ford to further differentiate the F-150 from other trucks on the market."
Looks tough and fast
The tough, chiseled look of the new Ford F-150 has been taken to a new level with F-150 SVT Raptor. The agile, performance truck was designed to give the impression it is always on the move.
Noticeable differences between the Ford F-150 SVT Raptor and conventional F-150 include a distinctive grille that has the Ford name carved into it; front bumper, vented hood, front fascia and fenders, functional hood extractors, fender extractors with 'SVT' bored out, as well as visible FOX Racing Shox, the only internal bypass shocks available on a street truck.
Another key difference between the F-150 SVT Raptor and the base F-150 is it is more than seven inches wider. Ford designers took advantage of this difference and highlighted it with distinctive marker lamps. When turned off, the marker lamps are well-integrated into the F-150 SVT Raptor's front end, as opposed to on top of the cab. When lit up, Raptor's imposing stance is immediately recognizable.
While the exterior design of the F-150 SVT Raptor is about creating an image, the interior design is about creating the feel of the truck, and both must complement each other.
Design elements from the unique grille and front fascia have been carried through to the interior on the console and dashboard. The steering wheel is wrapped in black leather and features a molten-orange leather strip that serves as a centering sight line – which is especially useful in extreme driving maneuvers that can often cause the driver to lose perspective of the steering wheel's center point.
Revved up and ready
The Ford F-150 SVT Raptor is powered by the F-150's proven 5.4-liter Triton V-8 three-valve engine, which delivers 320 horsepower and 390 lb.-ft. of torque. A new open-valve fuel injection strategy improves the air/fuel charge conditions in the combustion chamber, allowing greater spark advance at higher loads and engine speeds. This delivers increased horsepower during towing and higher rpm operations, lower emissions and more efficient use of fuel.
A new 6.2-liter V-8 engine will be available after launch. The 6.2-liter engine features all-new architecture specifically designed for robustness in a truck application.
Given reliability and longevity under harsh conditions are key to truck customers, the Ford team performed extensive testing to ensure the 6.2-liter V-8 engine would live up to the 'Built Ford Tough' promise. Fifty 6.2-liter V-8 engines successfully endured more than a dozen of the toughest engine tests at Ford's dynamometer lab during development.
SVT used a specially designed, 62-mile durability loop in the desert of Borrego Springs, Calif., to replicate the conditions of the Baja 1000 race, to further test the engines' performance.
Take off and landing
Building a high-performance off-road truck is not about the horsepower – it's about the suspension. The F-150 SVT Raptor doesn't disappoint, with 13.4 inches of usable travel in the rear suspension and 11.2 in the front.
"With the F-150 SVT Raptor, we changed the axle, the whole front suspension is different – new upper A arm, new lower A arm, new tie rod, new half-shaft joints," said Jamal Hameedi, Ford SVT chief engineer. "It's well beyond what SVT has ever done with one of our vehicles."
Raptor's wider track and softer suspension mean it will comparatively glide over obstacles. And when it has to be "launched," be prepared for a soft landing. "The suspension does all the work to keep the truck's attitude stable," Hameedi said.
In addition to a beefed up suspension, the F-150 SVT Raptor also boasts unique internal bypass Fox Racing Shox, the only internal bypass shocks on a street truck. The position sensitive dampening internal bypass feature allows the shock to become significantly stiffer as it travels, preventing the truck from bottoming out.
By working with Fox internal bypass technology and applying the Ford engineering methodology, there haven't been trade-offs to assure extreme off-road handling over on-road ride comfort.
"This truck is also going to be a daily driver. We brought together a lot of experts to ensure the on-road steering precision and comfort was there, too," said Hameedi. "That's where Ford expertise really came to the table and complemented Fox's off-road expertise."
A tough truck needs tough tires, and a BF Goodrich All-Terrain TA/KO 315/70-17 tire does the job.
To help improve the tire in a variety of conditions, the compound of the tread was altered. Engineers made the rubber softer for better performance on and off-road and for precise and predictable steering in a variety of conditions while the interior of the tire was modified to improve lateral firmness.
The tall sidewall on the 35-inch tire can handle rocks and irregular surfaces commonly experienced in an off-road environment. A 17-inch cast aluminum wheel is designed to absorb the impact of objects the truck could encounter in some of the most extreme environments.
Specialized Technologies
The F-150 SVT Raptor provides the complete package for off-roaders, including state-of-the-art technologies to keep it at the top of capability.
"For many years, enthusiasts have been struggling with the performance of electronic technologies in the extreme off-road environment since that was not the environment they were designed for," Hameedi said. "What SVT has done is tailor technology to function in both an on-road and an extreme off-road environment."
Technologies include:
• AdvanceTrac® with RSC® (Roll Stability Control™) predicts the vehicle's path using a sensor to detect and measure oversteer and yaw by monitoring the vehicle's speed, throttle position and steering wheel angle. When the system senses wheel slip or the loss of traction, it applies braking where needed to keep the truck tracking safely on its intended path. If a significant roll rate is detected, the system applies additional countermeasures to enhance vehicle roll resistance.
The off-road enthusiast has the option to switch to two available settings – sport mode and full off-road mode depending on their driving situation. The sport mode shuts off traction control enabling the vehicle to have more yaw movement.
Full off-road mode shuts off all electronic stability programs and the ABS system switches to a special off-road setting. Widening the threshold of sport mode, the wheels will lock more which is helpful in off-road terrain. Also in full off-road mode, the locking rear differential is allowed to stay locked at elevated speeds to mimic a spool differential found on racing trucks.
• Trailer Sway Control works in conjunction with AdvanceTrac with RSC and can determine from the yaw motion of the truck if the trailer is swaying and take measures – such as applying precise braking or reduced engine torque – to bring both vehicle and trailer under control.
• Integrated Trailer Brake Controller is factory-installed and allows direct operation of the trailer's electronic brakes by squeezing the control module on the instrument panel with more confidence than the typical aftermarket system.
• Electronic Locking Differential uses a true mechanical connection to lock the left and right axle shafts together so both turn at the same speed with the same amount of torque. This switch-controlled feature maximizes traction capability at the wheel with grip, without having to stop the truck.
• Hill Descent Control on the F-150 SVT Raptor is Ford's first application of the technology. Utilizing ABS, the driver can control hill descent without applying the brakes. The speed is set for the truck to descend the hill by pushing a button and allows for the driver to concentrate on driving, rather than on how to modulate the brakes on a steep decline.
• Off-Road Mode engages a third throttle map and a third shift schedule for improved off-road performance. Third throttle map alters the throttle by changing the driver demand table so it is better suited to high and low-speed off-road driving conditions. A third shift schedule is a unique strategy for the off-road environment that holds the transmission in each gear for a longer period of time, allowing better engine throttle modulation to control the vehicle.
• Auxiliary Switch Board on the center console makes aftermarket customization easier, with four prewired switches attached to the power distribution box for electrical accessories. Also located on the auxiliary switch board are two switches for improved off-road performance – Hill Descent Control and Off-Road Mode.
The F-150 SVT Raptor will be built along side the new F-150 at Ford's Dearborn Truck Plant at the historic Rouge Center in Dearborn, Mich.
[Source: Ford]
Leave a comment You must be logged in to post a comment.